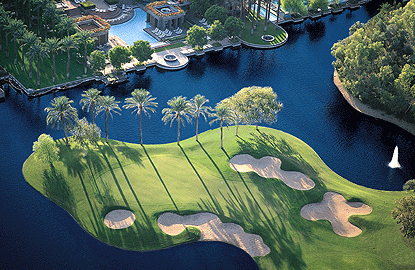 Whisper Rock
Whisper Rock Golf Club is a private facility dedicated to providing a pure golf environment. The first 18-home course, designed by PGA Tour Player Phil Mickelson and architect Gary Stephenson, opened for play in March of 2001. Preliminary routings are being studied for a second 18-hole course, to be built as membership growth dictates. The club is currently operating out of "The Bunkhouse"; a 4,000 square foot facility that will ultimately be integrated into a larger clubhouse campus. Golf cottages are planned for sale and member/guest use.
To ensure that the golf experience is never compromised, the traditionally structured Whisper Rock Golf Club will remain separate from Whisper Rock Estates and golf memberships are mutually exclusive. Memebership is obtained through invitation and sponsorship and is limited to 350 members per 18-holes, with an individual entitlement per membership.
Click to see…. Whisper Rock Real Estate
Silverleaf
This private enclave of custom estate home sites and intimate retreats is tucked into the canyons of the McDowell Mountains in North Scottsdale, Arizona, and adjacent to DC Ranch. With its classically designed Tom Weiskopf golf course, clubhouse and spa, Silverleaf represents the desert experience lived at the highest levels.
click to see….. Silverleaf Homes for Sale
Desert Mountain
Revered by golfers around the world, The Desert Mountain Club today boast 108 holes of Jack Nicklaus Signature golf, each one different, but all woven into the landscape so artfully that they appear a gift of nature.
click to see….. Desert Mountain Homes For Sale
Mirabel
Mirabel, "To Look at Beauty", is North Scottsdale's newest upscale Golf Community. Located on over 700 scenic acres, Mirabel offers new custom home sites amidst the beauty of an intimate, guard gated neighborhood. These spacious home sites of approximately 350 lots are the antithesis of the large sprawling golfing community. The Building Envelopes and design guidelines have been established to enhance and protect the natural beauty and distinctive ambience that is Mirabel The Soul of the Community is the Private, Tom Fazio designed golf course which takes full advantage of the rolling desert setting. With the surrounding mountains as a backdrop and the distant Valley floor always in View, the Mirabel Golf Course offers truly breathtaking vistas. Currently, the developers of Mirabel (who were the guiding force behind North Scottsdale's Estancia), are offering custom homesites at incredible prices. Soon, a limited number of Golf Villas will be available for a quick turnkey move in. The membership is private, and so is the tour.
click to see…. Mirabel Real Estate
Troon North
Troon North is more than luxury homes and worldclass golf. Troon North's 37,000 square foot full service clubhouse features a bar and grill, locker rooms, health and fitness rooms, an award winning golf shop and banquet, conference and catering facilities for parties up to 200. These outstanding amenities matched with quality service make the Troon North Clubhouse an incomparable asset to golfers and residents alike.
The community is situated adjacent to a 185-acre mountain preserve. Multi-use trails climb onto boulder-strewn ridges high above the desert floor and meander past ancient saguaros, ironwoods and mesquites. The higher elevations bring not only cooler summer tempatures and cleaner air, but also scenic panoramas and outstanding views of the city lights below. The four-acre Troon North community park features tennis, basketball, barbecues, ramadas, a tot lot and a turfed play area for other outdoor activities. In addition, a 30-acre municipal park will be developed by the City of Scottsdale which will include soccer and softball fields, as well as tennis, volleyball and basketball courts.
Membership has its Privileges
Residents of Troon North have exclusive membership rights to its non-equity, semi-private club. Resident Membership is available at no charge to all Troon North property owners, and includes the following benefits: reduced green fees, use of the driving range, and prioritized tee-time reservations. Club Membership is also available to all Troon North property owners for an additional fee. Benefits include full golf privileges, free range balls, and reduced fees for accompanied guests.
click to see…. Troon North Homes For Sale
DC Ranch
DC Ranch is set in the ruggedly beautiful vegetation that grows taller and more lush as the land rises towards the McDowell Mountains in northeast Scottsdale. The master plan, developed by Vernon Swaback AIA, offers a true sense of neighborhood by creating villages that conform to the land and its natural features. Residents will enjoy the benefits of retail, commercial and medical facilities along with schools, churches, and resorts, all within their own community. A community center will offer swimming, tennis, basketball, volleyball and fitness. Scott Miller, golf course designer, brings his philosophy of regarding the project as a whole rather than the cutting up of land and piecing it back together. Encompassing approximately 3,700 acres of high Sonoran desert, each home community will offer unique home and site selection choices. New homes range from the mid $350,000's to over $4,000,000.
click to see… DC Ranch Real Estate
Estancia
An Intimate and Elegant Private Community Nestled on the northern slope of Scottsdale's famed landmark… Pinnacle Peak, the private community of Estancia has been sensitively planned as the Southwest's most prestigious address. This gated community, which encompasses 640 acres of the most exquisite Sonoran high desert terrain, features 223 spectacular custom home sites and 39 beautifully designed villas. By day or by night, the views are breathtaking with distant mountains, massive boulder outcroppings, statuesque saguaro cacti, romantic western sunsets, and twinkling city lights. At Estancia's centerpiece lies an exclusive private golf club, by invitation only. With a restricted number of members, this exclusive membership takes pride in the superb golf course designed by Tom Fazio, which was awarded Golf Digest's "Best New Private Course of 1996". The magnificent European-style Clubhouse for Estancia features private dining areas, club grill, tennis facilities, a swimming pool and fitness center with full locker room facilities.
click to see…. Estancia Homes For Sale
Gainey Ranch Golf Club
Gainey Ranch Golf Club, an award-winning  private golf club, offers incomparable golf on three unique, championship nine-hole courses: The Lakes, The Dunes and The Arroyo.
Desert Highlands
This Jack Nicklaus designed, 18 hole championship golf course, achieved its international fame with the first two Skins Games in 1983-84. A full golf and tennis membership is included with the purchase of property in Desert Highlands. Upon resale of your home or home site your membership is passed on automatically to the new owner. The par 72 golf course measures 7,099 yards from the championship tees, but each hole provides four to seven sets of tees to accommodate varying levels of skills. The course meanders through the natural terrain using only eighty acres of irrigated land as opposed to the typical golf course usage of one hundred and twenty-five acres. The course can play among the most challenging in Arizona. Other amenities include tennis on a variety of surfaces; grass, clay and Laykold, a natural grass putting course, swimming pools and fine dining, to name a few. Annual food and beverage minimums apply. Immediately following its opening in 1983, GOLF DIGEST ranked the Desert Highlands course as the "Best Desert Course in the Country" and the "Best Course in Arizona". To accommodate players of all levels and abilities, we have 6 sets of tees. Course length varies from 5400 to 7100 yards. USGA course slope rating ranges from: men's – 122-151; women's – 122-135. Jack Nicklaus designed our 18-hole championship golf course. The golf course achieved its international fame with the first two SKIN GAMES in 1983-84. It continues to be one of the most beautiful, respected and sought after golf courses to play in the country. The 18-hole putting course was the first of its kind in the United States. 1997 Tom Doaks' Confidential Guide rated Desert Highlands in the following categories: Most Beautiful Clubhouse, Best Putting Course, Best Practice Facility, Best First Tee, Best Club with Locked Gates. Only 28,000 rounds of golf were played at Desert Highlands in 1997. Tennis There are four different tennis amenities designed throughout the community, involving three tennis surfaces: grass, clay and Laykold. We have approximately 200 rated tennis players. Clubhouse Golf magazine named the Desert Highlands clubhouse as the "Third Best in the World". There are over fifty special member events on the clubhouse calendar in a typical year. These events include monthly ladies' luncheons with unique programs, special theme dinners, and annual "homecoming Party", holiday parties and art shows. When you think of Scottsdale, Arizona, golf is usually the first thing that comes to mind. When you think of Desert Highlands golf, many think Jack Nicklaus. The course was designed by the Golden Bear in 1983 and it has been claimed that Desert Highlands has been designed around Nicklaus' own playing style. That wouldn't be surprising given the fact that Jack spent two years and twenty visits to the site before completion. Unusual also – each hole on the big tournament course provides four to seven sets of tees to accommodate varying levels of skills.
click to see…. Desert Highlands Homes For Sale
The Boulders
Discover one of the finest golf communities in the world, The Boulders in Carefree, Arizona. Carefully sculpted into the unique natural beauty of the high Sonoran Desert, the internationally renowned Boulders Resort is a consistent winner of many prestigious awards, including Golf Magazine's Gold Medal and the top ranking in Andrew Harper's Hideaway Report a " connoisseur's guide to peaceful, unspoiled places". Discover a community with an enviable lifestyle and homes as dramatic as the rock formations that surround this exclusive enclave. Featuring two championship golf courses designed by Jay Morrish, the private Boulders Country Club offers outstanding dining, a beautiful tennis garden and the soon to be completed Golden Door Spa for state of the art fitness and heath programs. For those who wish to live where others vacation, The Boulders Community offers a wide variety of residential opportunities. In this remarkable setting where over half the property will always remain open space, a limited collection of private homes and custom homesites has been created. The Boulders features a wide range of residential choices including low maintenance patio homes and luxury estates in the Southwestern tradition. Because of the commitment to desert preservation and low density, the Boulders Community is nearly completed. But there are always excellent opportunities to be found.
click to see…. The Boulders – Homes For Sale
Terravita
Terravita, which means "Land and Life," consists of 823 acres designed for a diverse population of full and part-time residents of all ages. It is a guard-gated community in which the majority of home sites back to the golf course or natural desert areas. The architectural planning, site selection and construction techniques were developed and implemented to minimize the visual impact of structures while maximizing harmony with the environment. A comprehensive amenity program offering Championship golf, Clubhouse facilities, Health and Fitness Center, Swim and Tennis Center and a scenic, six-mile network of trails interconnecting the entire community have all been designed with the comfort, satisfaction and needs of the residents in mind. The 34,00 square foot Clubhouse features men's and women's locker facilities, two dining rooms, outdoor terraces, an indoor/outdoor Grille and is a great place for romantic sunset views or as a gathering place for friends and neighbors. The Health and Fitness Center offers men's and women's locker rooms, an array of exercise equipment and a spacious aerobics room. The Swim and Tennis Center features a lap pool, lagoon-style pool, five tennis courts (including a stadium-style court) and an outdoor spa.
click to see…. Terravita Real Estate
Ancala Country Club
Nestled in the rugged foothills of the McDowell Mountains, Ancala Country Club is graced by the natural beauty of the Sonoran Desert and has become one of Scottsdale's most prestigious private country clubs. Nestled in the rugged foothills of the McDowell Mountains, Ancala Country Club is graced by the natural beauty of the Sonoran Desert and has become one of Scottsdale's most prestigious private country clubs.
The Dye Design 18-hole championship course challenges players of all skill levels with five sets of tees and a variety of play. Dramatic views, lush fairways and pristine emerald greens offer an unforgettable game.
Ancala Country Club was recently ranked as one of Arizona's top ten private country clubs by "Ranking Arizona Magazine". The Dye Design 18-hole championship course challenges players of all skill levels with five sets of tees and a variety of play. Dramatic views, lush fairways and pristine emerald greens offer an unforgettable game. Ancala Country Club was recently ranked as one of Arizona's top ten private country clubs by "Ranking Arizona Magazine".
click to see…. Ancala Country Club Real Estate
Desert Forest Golf Club
DESERT FOREST IS A PRIVATE, MEMBER-OWNED GOLF CLUB LOCATED IN CAREFREE, AZ, NORTH OF SCOTTSDALE AND PHOENIX. IT IS WIDELY CONSIDERED TO BE THE FIRST DESERT-STYLE COURSE EVER BUILT. AND THAT IS JUST THE BEGINNING OF THE CONSIDERABLE ACCLAIM ACCORDED TO THIS DESERT GEM DURING ITS 50 YEAR HISTORY.
click to see…. Desert Forest Homes For Sale
Firerock Country Club
A distinctive community demands a very special location. Red Mountain stands as a majestic landmark at the southern outskirts of Fountain Hills. In the setting sun, the mountain lives up to its name,  glowing a deep burnt orange.
This is the site of FireRock Country Club-Fountain Hills' only private, gated golf community. FireRock Country Club brings a level of refined style and beauty that rivals the natural landscape of this small hillside community. Although it feels secluded, Fountain Hills is located just a few miles east of Scottsdale, Arizona – a city renowed for its dining, shopping, night life and cultural venues.
click to see…. FireRock Homes For Sale
Superstition Mountain Golf and Country Club
Superstition Mountain Golf and Country Club is a balance of old world quality and graciousness and new world convenience and comfort. It is a personal sanctuary of luxury and distinction that offers a unique lifestyle.
Whatever living option you choose: custom home, home site or elegant Villa, you'll be captivated by each village's distinctive characteristics. The views from every home are appropriate to the dramatic Sonoran Desert landscapes. With 36 holes of Nicklaus-designed golf, every day on the courses presents you with an unparalleled experience.
Great shopping, sporting events and enriching outdoor and cultural activities including theater, civic centers and museums are all easily accessible. Schools, banks, medical services, supermarkets and spiritual facilities are also available nearby.
Superstition Mountain Golf and Country Club embraces all the amenities that make one's lifestyle fulfilling and carefree. It is a distinctive world of timeless elegance, warmth and serenity. It is a world you can call your own.
click to see…. Superstition Mountain Real Estate
Dove Mountain
Dove Mountain has three spectacular and unique golf clubs boasting a total of 81 holes of desert golf. The Golf Club at Dove Mountain, The Gallery Golf & Sports Club, and the Highlands at Dove Mountain.
The Golf Club at Dove Mountain
Designed by legendary champion Jack Nicklaus who integrated strategy, variety and beauty into his Signature Course at The Golf Club at Dove Mountain. The 27 hole course and 45,000 square foot clubhouse blend naturally into the saguaro covered foothills of the Tortolita Mountains.
The Gallery Golf & Sports Club
The North Course at The Gallery is Acknowledged as one of Golfweek's Best Modern Courses. Playing through two canyons, The North Course is as enjoyably playable for the higher handicap golfer as it is challenging for the touring professional. The South Course makes The Gallery one of the few private clubs in the country featuring two highly acclaimed golf courses.
Highlands at Dove Mountain
The front nine holes of this Arthur Hills design play through the flats, offering subtle undulation and unforgettable character. The back nine is an interesting and challenging change of pace, playing through hilly terrain, wrapping around mountains and meandering by lakes. This public course is laden with risk / reward opportunities which test the skills of the novice and the most seasoned golfers.
Click to see……. Dove Mountain Real Estate
The Rim Golf Club
The Rim Golf Club is one of the most extraordinarily beautiful Golf Communities in the Southwest. This peaceful "Guard-Gated" sanctuary is comprised of 326 home sites on 555 acres, all carefully planned to enjoy breathtaking views and superior privacy.
The Golf Club at Chaparral Pines
Chaparral Pines' private championship golf course is an 18-hole, par-72 masterpiece designed by former U.S. Open and PGA Champion David Graham and noted Scottsdale-based architect Gary Panks. It was named one of Golf Digest's "Top 10 New Private Golf Courses in the U.S." when it opened in 1997 and consistently ranks among the magazine's "Top 25 Private Golf Courses" in Arizona.
Torreon
The community of Torreon is located in the White Mountains and the heart of Arizona's mountain recreation area. Situated on the Mogollon Rim in the northeastern part of the state, Torreon is a scenic 3 to 3 1/2 hour drive from either Phoenix or Tucson. At an elevation of 6,350 feet, the mountain breezes afford a moderate summer climate with a high temperature in the mid 80′s and  an average high temperature of 48 degrees in the winter. Surrounded by the Apache-Sitgreaves National Forest, the region's beautiful scenery and high country climate provide the perfect setting for four seasons of outdoor recreational activities. Within easy access are nearly 600 miles of streams, over 40 lakes and the 180-mile White Mountain Trailsystem. Downhill and cross-country skiing, snowboarding and snowmobiling are available at the nearby Sunrise Ski Resort.
The appeal of Torreon, in the idyllic lake region of Arizona's White Mountains, is to those people, and their families, who seek an informal getaway…an unpretentious environment with superior amenities that exceed those offered by other golf club communities. At the extensive Family Center, you will be able to play tennis, basketball, volleyball, or swim in the pool. Enjoy the equestrian facilities. Try your fly fishing skills on the surrounding lakes or revel in the four seasons of peaceful beauty as you hike in the adjacent national forest. All this can be yours including a golf club highlighted by an 27 hole golf course designed by the world renowned architect Robert von Hagge and his firm, von Hagge, Smelek and Baril. The Torreon Golf Club features a full-service clubhouse, fitness center, and pool. At Torreon, there is a diversity of living options: custom homesites with golf course and horizon-to-horizon views, selected homesites surrounded by towering pines and smaller residential clusters.
click to see….. Torreon Real Estate
Hassayampa
Tom Weiskopf's hands-on approach sets him apart from other course designers. Most PGA Tour professionals-turned-designers draw up a set of plans and hire someone to oversee the operations. Not Weiskopf he prefers to make all the final decisions. From tee-box locations, to the slope of greens, to the trees that should be planted, moved or removed, he has a vision of the finished product. And no one else can see it as clearly. Already acclaimed for his designs on the two high-desert Troon courses, as well as the Tournament Players Club and Flagstaff's Forest Highlands, Weiskopf seemed a natural choice to design Arizona's newest upscale membership course-Prescott's Hassayampa Golf Club. Respecting the existing landscape and honoring the history of the course were strict themes in course design and construction. Instead of plowing down the tall chaparral, the course was instead sculpted out of the dense vegetation. As an alternative to disturbing the two environmentally sensitive natural creeks on the site, they became features of the course. The numerous boulder outcroppings offered features unique to the topography. In honoring the course's historic value, six of the newly designed 18 holes run parallel to, overlay or dissect the original Hassayampa course built in 1919. An emphasis on manual care of the course results in a first-class charm. Wide cart paths are paved with hand-brushed concrete, instead of asphalt, for durability. The various elevations of the course, which range between 5,200 and 6,000 feet, allow for breathtaking views. While preparing for a tee shot, it's difficult to overlook the 360-degree vantage points offered from many of the tee boxes. In the forefront stands the historical village of Prescott, nestled quietly among a circle of ponderosa pines that surround the town. While strolling along the nearly 6,700 yards of manicured fairways, golfers are treated to seemingly endless views of the horizon bisected only by numerous mountain ranges, including the often-snowcapped San Francisco Peaks. The mild climate and year-round playing season attracts residents with varying intentions. Four categories of tees are offered: Weiskopf (Championship), Tournament, Regulation, and Forward. Golf memberships are restricted to 390 golf memberships to ensure that intimacy and exclusivity remain at a premium. Residency is almost essential to play this course, as usage is restricted to members and their guests, although social memberships are available. To learn more about how you can begin living the Hassayampa lifestyle and create a lasting legacy of your own, contact Brian Young (602) 405-3949 direct line.
click to see….. Hassayampa Real Estate
Forest Highlands
Created in 1986 by Tom Weiskopf and Jay Morrish the Forest Highlands Canyon course is an exercise in breathtaking beauty and challenging sport. It has been ranked among the top 100 courses in the world by Golf Magazine and rated by Golf Digest as the #1 private golf course in Arizona.
Within the Forest Highlands Meadow golf course the beauty is breathtaking. Designed by Tom Weiskopf, the Meadow course opened at Forest Highlands in 1999. Unlike its hilly Canyon cousin, the Meadow course is a more traditional, park-like walking course and is rated #8 by Golf Digest.
click to see….. Forest Highlands Homes For Sale
Rancho Mañana
Rancho Mañana Golf Club is a par 70 championship golf course featuring dramatic elevation changes and unspoiled desert terrain. Stunning views and an abundance of wildlife provide golfers with the ultimate golf experience.
click to see…. Rancho Manana Real Estate
Grayhawk
Because of its wide selection of home styles and prices, Grayhawk attracts residents from all walks of life. Young families, executives, singles, retirees, you name it. They're all at Grayhawk and they all have one thing in common — they love Grayhawk's natural blend of native desert and lush green landscaping and its abundance of outdoor-oriented activities.
Additionally, Grayhawk boasts a prestigious north Scottsdale address and is located just far enough from the bustle of the city so as not to sacrifice convenience for serenity. The people are friendly. A mixture of world-class shopping centers, restaurants and entertainment options can be found just minutes away. And business districts are a short commute. Phoenix and Scottsdale — both known for their Western charm with a cosmopolitan twist — are among the fastest growing cities in the nation. Thankfully, though, they have not lost their community spirit and hometown warmth.
click to see…. Grayhawk Homes For Sale
Stone Canyon
Nestled in the lush foothills and canyons of the Tortolita Mountain range lies Stone Canyon, one of the finest residential, recreational and private golf communities ever developed in the southwest. Our acre plus home sites are thoughtfully situated to take advantage of the panoramic views of the Tortolita and Santa Catalina Mountain ranges as well as the city lights of Tucson. To ensure the privacy of our owners, Stone Canyon is a gated community staffed with an attendant on duty 24 hours a day. The centerpiece of this community is The Stone Canyon Club and its spectacular 18-hole championship golf course designed by Jay Morrish. Designed to compliment the natural desert arroyos and dramatic rock outcroppings, this magnificent layout is already one of the best desert courses in the country. In addition to world class golf, construction of our planned sports facility featuring tennis, swimming and fitness center is scheduled to begin in 2001.
click to see…. Stone Canyon Real Estate
Wildfire Golf Club
Wildfire Golf Club is an upscale daily fee facility located in Northeast Phoenix/Scottsdale. Open for play in March of 1997, designed by Arnold Palmer and Palmer Course Design Company, Wildfire has quickly gained the recognition it deserves as one of the best new facilities to open in the Phoenix/Scottsdale area. Wildfire Golf Club is situated in the rugged Sonoran Desert that delivers a target golf experience yet the expansive fairways allow the player to remain in play even on a slightly errant shot. The flashed bunkering at Wildfire Golf Club is superb and so reminiscent of classical golf course designers as Tillinghast and MacKenzie. The putting greens carry plenty of undulation like many Arnold Palmer designs however, the expansive square footage of the greens (average size is 7,000 square feet) allow the undulations to create subtle challenges for the short game without feeling contrived or "tricked up". Wildfire, while being lesser known than our neighbors to the east, Troon North and Grayhawk Golf Club, will deliver the experience you will remember and this discovery we are sure you will share with your golfing friends.
click to see…. Wildfire / Desert Ridge Golf Club Real Estate
Legend Trail
This traditional eighteen hole course is located in the high Sonoran desert. From the clubhouse, there are spectacular views of Pinnacle Peak, the McDowell Mountains, Camelback, the Mummy Mountains, plus the nearby City of Phoenix. The fairways are spacious in width. The greens are large, firm, undulating, and challenging to read. The signature hole is #7, a 490-yard, par 5, featuring a pond on the left that is not visible from the tee box. The approach is to a small green protected by the pond. "GOLF Magazine" rated this course 88th under the 1998 category of "Top 100 Courses You Can Play in the U.S." "Golf Digest" rated it as the 15th "Best in State" course for 1997-98.
click to see…. Legend Trail Real Estate
Sunridge Canyon
Sunridge Canyon, a desert links-style course features numerous elevation changes in a canyon setting. Accuracy is foremost on this course's rolling fairways surrounded by desert. Strategically placed arroyos provide a good test of golfer's shot-making skills from the tees, as well as approaching the greens. The greens are medium-sized and undulating. Water hazards, in the form of ponds, come into play on four holes. The signature hole is #17, a 209-yard par 3, featuring a segmented green that is guarded by large boulders on both sides. "GOLF Magazine" rated this course 42nd best under the 1996 category of the "Top 100 Courses You Can Play in the U.S."
click to see…. Sunridge Canyon Real Estate
Eagle Mountain 
This is not a typical desert course because many holes feature grass from tee to green. Locals consider this more as a target course. One interesting feature is the natural box canyon that has been incorporated into the course design. There are several elevation changes, so be prepared for some uneven lies in the fairways. A lake comes into play on two holes. With four sets of tees, this course will challenge any skill level. The fairways are generous, featuring forty-foot landing areas, and the greens are undulating and range in size from small to medium.
click to see…. Eagle Mountain Real Estate
Kierland Golf Club
This club has three nine hole courses that are played in three eighteen hole combinations. Many spectacular views of the surrounding mountains can be seen from off the course. There are elevation changes up to eighty feet, so be prepared for many uneven lies. All three course are comparable in difficulty. The landing areas are generous, and there are some parallel fairways. The greens are medium-sized and full of subtle undulations. The signature holes are #7 and #9 on the Acacia Course, #9 on the Mesquite Course, and #9 on the Ironwood Course. Of these four signature holes, the most difficult is hole #9 on the Mesquite Course, a 427-yard, par 4, requiring a tee shot from off an elevated tee to a fairly generous landing area, then an approach shot to a green that is guarded by six bunkers and a lake.
click to see…. Kierland Real Estate
Starfire Golf Club
This club has three nine hole courses that are played in three eighteen hole combinations. The third nine was redesigned by Arnold Palmer and Ed Seay in 1986. These are traditional courses with wide fairways and many trees that can affect your shots. The terrain is fairly flat and there are water hazards that come into play on fourteen holes. Beautiful views of the Camelback Mountains are found directly southwest of the terrain while the McDowell Mountains can be viewed directly to the east. The signature hole is #8 on the East Course, a 202-yard, par 3, requiring a carry over a lake that is decorated with a gorgeous fountain. The green is elevated and well-bunkered. This hole also offers lovely views of the surrounding mountains.
click to see…. Starfire Real Estate
Dove Valley Ranch Golf Club
This desert-style course is challenging but not frustrating to play. The course is grass covered from tee to green. The greens are large, moderately bunkered and have some slope. The fairways are open and forgiving, the front nine more so than the back, which is noticeably narrower. One of the more challenging holes on the course is #8, a 576-yard par 5, featuring a lengthy dogleg right fairway. Water comes into play on three holes.
click to see…. Dove Valley Ranch Real Estate
TPC Scottsdale
This resort was named by "GOLF Magazine" to it's 1998 List of "Silver Medal Resorts". The Stadium Course is a spacious layout fringed by saguaro cacti and mesquite Trees, with a broad view of famed Pinnacle Peak to the north. This course can be quite a substantial challenge because of the mounds and bunkers strategically placed throughout it's design. The course has a desert ambiance, but the natural terrain doesn't come into play. Golf Digest Rated the Stadium Course as the 17th "Best in State" course for 1996. The PGA Phoenix Open is held here every January.
click to see…. TPC at Scottsdale Real Estate
Camelback Golf Club
Thirty-six holes of championship golf in beautiful Scottsdale, Arizona. From the mind of world-renowned golf course architect Arthur Hills comes a course that promises a demanding, dynamic, golf adventure. The $16 million renovation of the Camelback Golf Club features the newly designed Resort Course with towering trees, subtle landforms and strategic bunkering to sharpen your game. Desert and mountain views, lush palm- and eucalyptus-lined fairways, and multiple lakes surround the 18-hole Club Course. The new 36,000 square-foot pueblo-styled Clubhouse designed by Douglas Fredrikson offers golfers an expansive golf shop, The Grill at Camelback Golf Club, The Grill Lounge, meeting and banquet space, and amenities unmatched in the Valley.
Resort Course
Promising a knock-you-off-your-cleats golf experience, the new Arthur Hills designed Resort Course is a classic course layout in a lush parkland setting with spectacular mountain views. Challenge your skills on the 6868-yard, par 72 Resort Course with multiple lakes, traditional square tees, and an abundance of bunkers Club Course The 7014-yard, par 72 Club Course, laid out in links-style, was designed by Arthur Jack Snyder in 1978 and remains a dynamic course testing your best golf game. The Club Course features secluded sand traps, rolling terrain, tree lined fairways, with a magnificent mountain backdrop. The Grill at Camelback Golf Club After a challenging day on the course visit The Grill at Camelback Golf Club serving up your favorite American classics. Dine inside in a friendly comfortable atmosphere or outside on the patio with breathtaking mountain and fairway views. Open daily to the public for breakfast and lunch.
click to see…. Camelback Golf Club Real Estate
McDowell Mountain Golf Club
Scottsdale's newest 18-hole golf club – McDowell Mountain Golf Club at Westworld -lives up to its name. Although total yardage from each tee, at first glance, appears short, the course offers many challenges. The front nine is links-style golf, with plenty of fairway landing area; the back nine becomes more desert, target-style golf with carries over rock washes that require accuracy and distance. Number eight is one of two signature holes on the McDowell Mountain Course. A par three, alongside the course's biggest lake extends from tee to green. The eighteenth hole is the second signature hole, a beautiful par par five, with views into the McDowell Mountains.
click to see…. McDowell Mountain Ranch
Stonecreek Golf Club
This course is a links-style design featuring water hazards coming into play on five holes. The fairways are hilly, and the new greens are fast. The course closed for two months during the summer of 1996 to reshape the greens, mounds and approaches on six others. The course had been redesigned by Greg Nash in 1984, Jack Snyder in 1986 and Arthur Hills in 1989. This club hosts the LPGA Mitsubishi Pro Am every year.
click to see…. Stonecreek Real Estate
Las Sendas Golf Club
Las Sendas' Public 18-hole Championship Golf Course, designed by the highly regarded Golf Course Architect Robert Trent Jones, II, integrates the natural landscape and offers a challenging yet playable golf experience. Practice facilities include a large driving range as well as chipping and putting greens. The pro shop is located in the public clubhouse and provides everything from golf apparel to equipment as well as indoor/outdoor lounge – offering spectacular views of the valley below. The Las Sendas Golf Course and Clubhouse are privately owned but allows residents of Las Sendas to enjoy preferred tee times over the public.
click to see…. Las Sendas Real Estate
Estrella Mountain Ranch Golf Club
As Jack Nicklaus II's inaugural Arizona course, the new Estrella Mountain Ranch Golf Club offers a classic golf experience unlike any in the area. Following in his father's legendary footsteps, Jack II's daily-fee championship course is golf in the traditional sense — challenging yet forgiving, and always spectacular. Fairways roll across the natural contours of the land, while elevated tees unveil views of the Sierra Estrella Mountains. It is a course as remarkable as its heritage.
Jack Nicklaus II learned golf design from the best — his father, yet over time he has carved out his own niche and reputation. In keeping with the philosophy of Nicklaus Design, the course blends in with its environs and incorporates natural desert vegetation. The diverse terrain of this 7,102-yard course complies with Jack II's goal of offering variety. "I want people to step away from my course having used every club in their bag," he says.
The signature 17th hole, a 189-yard par 3, is set majestically into the rocky terrain and can be one of the few solid birdie opportunities of the course
Estrella Mountain Ranch, located just 20 minutes from downtown Phoenix, is a lakeside mountain community nestled in the Southwest Valley's Estrella foothills.
click here to see…. Estrella Mountain Ranch Real Estate
Red Mountain Ranch Country Club
RED MOUNTAIN RANCH COUNTRY CLUB DELIVERS AN INSPIRING GOLF EXPERIENCE EACH AND EVERY TIME YOU PLAY THE SPECTACULAR 18-HOLE CHAMPIONSHIP COURSE. ONE OF PETE DYE'S MASTERPIECES, THE 6,653 YARD, PAR 72 DESIGN FEATURES SIGNATURE MOUNDING AND BUNKERS REINFORCED WITH RAILROAD TIES, WIDE FAIRWAYS, AND CONTOURED GREENS.  THE INSPIRING LAYOUT COMBINED WITH THE NATIVE DESERT LANDSCAPE OF STATELY SAGUAROS, MESQUITE TREES, AND BREATHTAKING ROCK FORMATIONS CAPTIVATES PLAYERS FROM BEGINNING TO END.
Brian Young is your source for Scottsdale Arizona Real Estate and Homes For Sale and Paradise Valley Arizona Real Estate and Homes For Sale.
BRIAN YOUNG    PLLC, CDPE, REALTOR®
Dominion Real Estate Partners LLC
6619 N Scottsdale Road • Scottsdale, AZ 85250
602- 405 – 3949 DIRECT
480-990 – SOLD (7653) OFFICE